MKGC Legal Research and Analysis Expert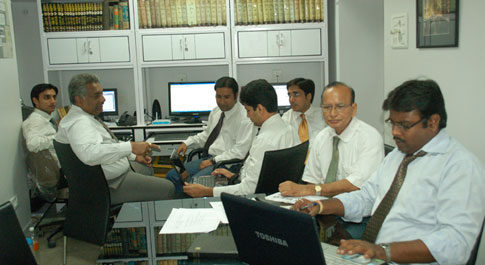 Legal Research is the process of identifying and retrieving information necessary to support legal decision-making and answers specific legal questions.
It includes a course of action that begins with an analysis of legal issue from the facts and concludes with communicating the results of the desired investigation.
In today's competitive world of business, gaining an edge over the others through the medium of acquiring well-researched data, latest laws, court references and legal support services has become imperative. Most international firms, legal departments of large Corporations and State and Central Governments' agencies are also increasingly outsourcing their legal research work to increase efficiency and achieve better results.
M. K. Ghosh & Co. aims at diligently meeting the legal research & support requirements of its clients with the Team of Experienced Lawyers, who have strong analytical and problem-solving skills and comprehensive research findings are then delivered securely and confidentially as per the choice of the clients.
The firm manages all the legal research and analysis requirements of its clients with the means of on-line legal data base, legal softwares and e-libraries which reduce the time and cost nearly by 50% in comparison to the traditional methods.
Its research and analysis work is closely supervised under the able guidance of expert researchers, eminent jurists and renowned lawyers.
It's fully IT enabled office with the latest infrastructure and tools along with the web conferencing facilities provides easy accessibility, prompt and qualitative services as a legal back office and thus enables its clients to focus on their core business activities.
It offers a complete legal research outsourcing solution inter alia in the areas of :
Litigation Research
Regulatory Compliance Research
Legal Reform Research
Multijurisdictional Surveys
The firm provides legal research and analytic services to corporates, Public Sector Undertakings, medium and small sized industries as well as individuals as per their specific requirements.